Consultancy
We provide recommendations for the right products and qualities. We can also provide guidance on maintenance and care to ensure that the wood remains optimal and patinates in the desired way.
Custom Production
We produce a vide range of standard profiles, but we also produce custom products on request. This gives you the opportunity to create unique and individual solutions.
Collaboration
At Saga Wood, weoffer a unique product, and we are always eager to collaborate closely with clients, architects and contractors. This ensures that our experience are utilized to the fullest in relation to each individual project.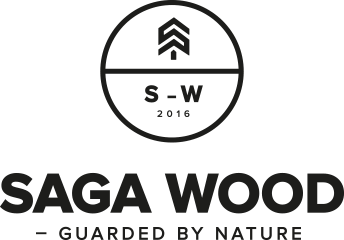 NORDIC SUSTAINABILITY WITH MASSIVE POTENTIAL
Saga Wood is thermally treated wood with a variety of applications in the construction industry. And the production is based on a patented and innovative technology. And Saga Wood is the only provider of this type in the market. Raw materials are certified with chain of custody and PEFC-certified, and our productsare eco-labeled with the Nordic Swan.. Without any further surface treatment, the wood facade will patinate to a gray color and lighten over time.

Sustainability

It is important to us, and the need for sustainable, durable, and beautiful wood for the construction industry is produced by us in an environmentally friendly and very energy-efficient way. The raw materials are harvested in a way that preserves biodiversity and is gentle on the ecosystems where the raw materials come from.
Reuse

At Saga Wood, our goal is that all our products can be reused for other purposes or converted into energy, as Saga Wood does not contain any chemicals or other additives and is therefore handled as regular wood.
LCA

Choosing Saga Wood facades provides a good life cycle assessment (LCA) for your building and has a low CO2 footprint from "cradle to grave".